Meet Patty.
When her mother moved into a nursing home, Patty found a new and permanent home here with Emmaus.
Meet Patty.
Patty was our oldest resident and joined our Community in 1995.
Patty was born long before the Community Living (group home) movement was started and thus spent many years living in a State run institution. Prior to coming to Emmaus, Patty had moved home to be with and help care for her mother. When her mother moved into a nursing home, Patty found a new and permanent home with Emmaus.
Upon her mother's passing and having no other family here in Pittsburgh, Emmaus became her family.
Patty worked for many years, then enjoyed her retirement and spent her days doing arts and crafts, going out to eat, participating in the Red Hat Ladies club, and acting in theater class. She had a zest for life that knew no bounds.
In 2018, Patty passed away. She was surrounded by her friends and loved ones. Emmaus committed to be here for Patty for life, and we kept that promise. We miss her dearly, but we know that Patty had a beautiful life and was loved by many. In sharing our lives with Patty, we were truly able to live out the Emmaus mission.
Interested in learning more about Emmaus?
We Love Emmaus!
At Emmaus, we recognize the unique gifts of every individual. We strive to provide not only a place for our residents to live, but true homes.
Get Emmaus in Your Inbox.
Subscribe to the Emmaus newsletter and stay informed about upcoming community events and volunteering opportunities.
Latest Emmaus Announcements
January 3, 2022
See the Pittsburgh Penguins take on the Washington Capitals on April 9th, at 3pm. Take a chance on winning FOUR tickets in the Captain Morgan Club! Drawing to be held
June 10, 2021
Become a Direct Support Professional at the Emmaus Community of Pittsburgh!
May 6, 2021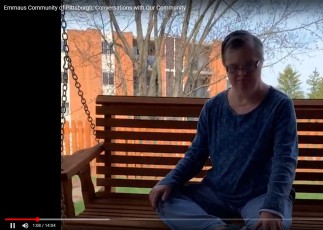 Check out our "Conversations with Our Community" video on YouTube!